26th Annual Dr. Martin Luther King Jr. Service of Celebration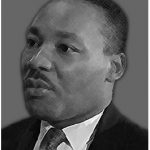 Come to our 26th annual Martin Luther King celebration on Sunday, January 20 at 5:00 PM. at Living Spirit UMC. 4501 Bloomington Ave. S.
Featured will be Sondra Samuels – CEO of the Northside Achievement Zone (NAZ).She provides top-level leadership, vision, and oversight for the NAZ effort and serves as an inspirational leader and advocate for North Minneapolis in the broader community. Under her leadership, NAZ has been distinguished as one of five federal Promise Neighborhoods in the country.
Singing will be Tonia Hughes who has garnered critical acclaim for her leading roles in musical and theatrical productions. Her credits include Encounters (2002), Southern Theater; Black Nativity (2003 – present), Penumbra Theater; Caroline or Change (2009), Guthrie Theater; Loves Covers (2010), Women's Club of Minneapolis; Mahalia (2011), Fellowship Baptist Church; and Cinderella, The Ordway Theater (2011). TRUST Youth will be providing music and liturgy.
Soup and sandwich dinner following the service. Join us!
Click here for a printable poster.