Give to the Max Day – November 16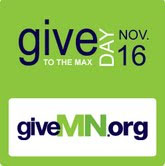 Wednesday, November 16th is Give to the Max Day. As you consider your charitable end-of-year giving, please consider participating in Give to the Max Day November 16. GiveMN is easy to use, and your gift to TRUST will make a huge difference to our ongoing work.
Click here to donate to TRUST.
Last year, more than 42,000 donors logged on to GiveMN.org and gave over $10 million to Minnesota charities in 24 hours during Give to the Max Day. Together, we have the power to raise millions of dollars for thousands of nonprofits. TRUST, together with GiveMN.org – a first-of-its-kind giving website for nonprofits in Minnesota – is working to create a stronger nonprofit community for Minnesota. Money donated to TRUST will directly benefit the programs of TRUST.
"We set single-day records for philanthropic giving in both 2009 and 2010 and want to keep that streak going in 2011," said Dana Nelson, executive director of GiveMN.org, which debuted in fall 2009 as the first-of-its-kind giving website and sponsors Give to the Max Day. "This is a day for us to come together as Minnesotans and show our support for the nonprofit organizations that work tirelessly to improve our communities."
Click here to see a promotional video put together by giveMN.org