Arlene Stenberg Remembered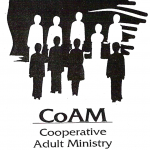 Arlene Stenberg, our office coordinator until failing health forced her retirement at the end of August, died in mid October, her long battle with cancer now over. We thank God for giving her to us for a while to know and to love. We miss her.
Arlene began working at CoAM on Feb. 1, 2002. At the time she was one of four salaried people working in our office. With the retirement of June Estey in 2005 and our executive director, Joanne Smallen, in 2006, Arlene's work was increased from half time to three-quarter time. Then, last year our financial woes forced the retirement of Russell Holt, another part-time employee, so that Arlene was now our only office personnel.
Her hours had to be cut back to half time, but in part this was compensated by our merger with TRUST, which assumed some of our office duties and oversight. Nevertheless, Arlene's steady and faithful hand in the office helped us as an organization to survive, though with reduced program, in a time of great financial stress.
For her work with us, her friendship, responsibility and loyalty, we remember her fondly, and give thanks to God for giving her to us for a while. Her memorial service was held at Bethel Lutheran Church, where she spent many hours serving us at the registration table. Good night, sweet princess. And flights of angels sing thee to thy rest.