CoAM Fall 2012 Life Enrichment Series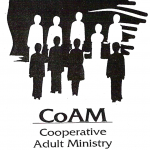 CoAM's Fall Life Enrichment Series starts on October 1, and is held on Mondays until November 12.
Bethel Lutheran Church, 17th Ave. S. and 42nd Street E. in south Minneapolis.
Come learn about World War I with Dan Burow, hear about the elections with Frank Wright, hear her take on the Wesleys with Rev. Audrey Benjamin and enjoy the ever popular music persentations by Carolyn Bliss. Click here for a detailed schedule.