It's Flu Shot Time Again!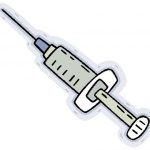 TRUST, in partnership with MVNA, will once again be sponsoring flu shot clinics at the churches listed below.
Here is a printable copy of the schedule if you need it.
Reminders:
To have Medicare billed, please bring your Medicare Part B card.
Ages 3 years and older may receive the flu vaccination (with parent's consent)
There are numerous insurance plans accepted this year. Health insurance card(s) or a photo copy (front only) is required for billing. Picture ID (ex. Drivers License or Employee Badge) is required.
For the non-insured, vaccination prices are (cash or check made out to MVNA):
– $29.00 for flu shot
– $32 for FluMist, if available.
– $75 for pneumonia shot
Please wear short sleeves.
============================================================
FLU SHOT CLINICS
Sunday, 9/16 10:45 am – 11:45 am
Judson Baptist Church, 4101 Harriet Ave. S.
Sunday, 9/16 11:30am – 12:30 pm
LCCR, 5440 Penn Ave. S.
Sunday, 9/23 10:00am – 12:00 pm
Richfield United Methodist, 5835 Lyndale Ave. S.
Sunday, 9/23 11:00am – 12:00 pm
St. John's Lutheran, 4842 Nicollet Ave. S.
Sunday, 9/30 11:15am – 12:15 pm
Lake Harriet United Methodist, 4901 Chowen Ave. S.
Sunday, 10/7 11:15am – 12:15 pm
Lynnhurst UCC, 4501 Colfax Ave. S.
Sunday, 10/7 11:30am – 12:30 pm
Living Spirit United Methodist, 4501 Bloomington
Wednesday, 10/10 4:30 pm – 6:00 pm
Bethlehem Lutheran Church, 4100 Lyndale Ave.
Monday, 10/15 10:30 – 11:30 am
St. John's Episcopal, 4201 Sheridan Ave. S.
Monday, 10/15 12:00 – 1:30 pm
Bethel Lutheran Church, 4120 17th Ave. S.
Health Fair & Flu Shot Clinic co-sponsored by
Nokomis Healthy Seniors
============================================================
MVNA has all their clinics posted on line at www.mvna.org. TRUST flu shot clinics are on the web site at www.trustinc.org. If you have questions, call Pat McLaughlin, TRUST Parish Nurse at 612-822-2394. For more information about TRUST, call 612-827-6159 or visit the web site.