2013 Flu Shot Clinics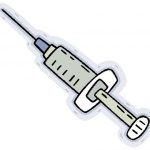 IT'S FLU SHOT TIME!
Mark your Calendars!!
TRUST, in partnership with MVNA will once again be sponsoring flu shot clinics at the TRUST congregations listed below. If you want a flu shot, please make a reservation at the church where you want to get your shot. There are signup sheets at all the host churches. Listed below are the churches with their phone numbers.
Reminders:
To have Medicare billed, please bring your Medicare Part B card.
Ages 3 years and older may receive the flu vaccination (with parent's consent)
There are numerous insurance plans accepted this year. Health insurance card(s) or a photo copy (front only) is required for billing. Picture ID (ex. Drivers License or Employee Badge) is required.
For the non-insured, vaccination prices are (cash or check made out to MVNA):
$29.00 for flu shot
$32 for FluMist, if available.
$75 for pneumonia shot
Please wear short sleeves.
FLU SHOT CLINICS
Sunday, 9/15 11:30 am – 12:30 pm
LCCR, 5440 Penn Ave S.
612-926-5414
Sunday, 9/22 10:00 am – 12:00 pm
Richfield UMC 5835 Lyndale Ave S.
612-861-6086
Sunday, 9/22 10:45 am – 11:45 am
Judson, 4101 Harriet Ave S.
612-822-0649
Sunday, 9/22 11:00am – 12:00 pm
St. John's Lutheran, 4842 Nicollet Ave S.
612-827-4406
Sunday, 9/22 11:30 am – 12:30 pm
Living Spirit UMC, 4501 Bloomington Ave S.
612-721-5025
Wednesday, 9/25 4:30 pm – 6:00 pm
Bethlehem, 4100 Lyndale Ave S.
612-312-3400
Sunday, 9/29 11:15 am – 12:15 pm
Lynnhurst UCC, 4501 Colfax Ave S.
612-827-6157
Monday, 10/14 12:00 – 1:30 pm
Bethel Lutheran Church, 4120 17th Ave. S.
Health Fair & Flu Shot Clinic co-sponsored by Nokomis Healthy Seniors.
Call NHS at 612-729-5499 to reserve your place.