CoAM Winter 2014 Life Enrichment Series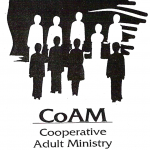 CoAM's Fall Life Enrichment Series starts on Monday, February 3rd and is held every Monday until February 24th.
Mondays,  February 3 through February 24th
9:30 – 11:50 a.m.
Classes held at centrally located
Bethel Lutheran Church
17th Ave. So. & 42nd St. E., Minneapolis
Click here for a printable class schedule
Monday, February 3
9:30 — 10:30 a.m.
GREAT DECISIONS: Is NATO Still Needed?
By Norma Noonan, emerita Professor of Political Science, Augsburg College.
Is there a need for NATO today — more than 20 years after the end of the Cold War? Does it still have a role to play in today's world? How has the Afghan war affected NATO?
TRAVELOGUE: Canada's Longest Road.
This is about Canada's transcontinental highway and is presented by the Canadian Embassy. Across prairies, through forests and between mountains, it stretches from ocean to massive ocean.
10:50 — 11:50 a.m.
HEALTH: Know the 10 Signs of Alzheimer's Disease
by Marsha Berry, Education Manager, Alzheimer's Association Minnesota-North Dakota.
The warning signs of Alzheimer's disease are often dismissed as side effects of normal aging. It's time to learn the facts to help with early detection.
TRAVELOGUE:
Repeat of 9:30 program.
Monday, February 10
9:30 — 10:30 a.m.
HUMANITIES: Our Shared Table and the Future of Sustainable Food
by Marita Bujold, civic activist, artist, and professional volunteer whose Master's thesis research led her to expertise on the subject of sustainable food.
TRAVELOGUE: Switzerland, Its Jungfrau Region of the Alps and Its Great Cities. Rick Steves leads us through some scenic wonders and the kinds of cities we wouldn't mind living in — if we couldn't live in our Twins, of course.
10:50 — 11:50 a.m.
BLACK HISTORY MONTH: The Black Experience in 19th Century Minnesota
by Dr. William Green, Augsburg College History Department.
Dr. Green draws on research published in book form in 2007 and another scheduled for publication in September to relate the black experience in 19th Century Minnesota. What do you think — Minnesota nice? Really?
TRAVELOGUE:
Repeat of 9:30 program.
Monday, February 17
9:30 — 10:30 a.m.
HISTORY: George Washington, Father of Our Country
by Dan Burow, who presented a 3-session series back in October on how our country came to be. In this single session he takes a further look at Washington the planter and military leader but most of all at Washington our first president and how he probably saved our country for 72 years from civil war.
TRAVELOGUE: Somali Voices in Their Spread Around the World.
Minnesota now has a larger Somali population than any other state of the union. But Somalis have fled to many other countries. Listen to the voices of Somalis as they portray their spread around the world.
10:50 – 11:50 a.m.
HISTORY: Slavery: A Necessary White-on-Black Connection?
by Dan Burow, MDiv, who will take you back in history, into the Bible and into his own experiences as pastor of two black parishes. How did Christians justify enslaving other humans?
TRAVELOGUE:
Repeat of 9:30 program.
Monday, February 24
9:30 — 10:30 a.m.
INTERNATIONAL: Israeli-Palestinian Peace: American Perspectives.
Dr. Brad Holt, recently retired religion professor at Augsburg College, will sketch recent developments in the search for a just and peaceful resolution of the conflict between the State of Israel and the residents of the West Bank and Gaza.
TRAVELOGUE: Israel and Egypt, two travelogues by everyone's favorite traveler, Rick Steves.
Note that the first land will relate especially well geographically with Brad Holt's topic described above.
10:50-11:50 a.m.
LOCAL: Our Connection to the Local Somali Community
by Mary Laurel True, Director of Community Engagement at Augsburg College.
The Cedar Riverside Neighborhood, home to Augsburg College, is also home to the largest population of Somalis in the world outside of Somalia. Hear about the many ways Augsburg College is engaging with the Somali Community.
TRAVELOGUE:
Repeat of 9:30 program.