CoAM Visits Duluth — August 2017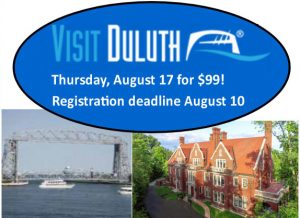 (click here for printable flyer)
Spend a day in Duluth! Tour Glensheen Mansion, have lunch at Grandma's Restaurant, tour the harbor aboard the Vista Queen and listen to our step-on guide describe Duluth points of interest.
Bus leaves Bethel Lutheran – 4120 17th Ave. S at 8:00 AM. Return at approximately 6:30 PM.
To Register:
Call the CoAM office at 612-721-5786 and leave a message to reserve your space & meal or email trust@trustinc.org and send a check for $99 to CoAM, 3045 Chicago Avenue S, Minneapolis, MN 55407.
Meal Choices:
You have the following choices for lunch (indicate which you prefer when registering):
California Chicken – A broiled breast of chicken topped with lettuce, tomato, and mayonnaise on a fresh old-fashioned roll with dill pickles and crispy French fries.
American Classic Burger – 1/3 pound, all-beef hamburger topped with grilled onions and American cheese, served on an old-fashioned toasted bun with dill pickles, and crispy French fries.
Marathon Spaghetti and Meatballs – Grandma's famous Italian spaghetti featuring our zesty meat and tomato sauce. Served with a freshly baked Italian bread stick. Also available with vegetarian marinara.
Chicken Caesar Salad – A grilled chicken breast, julienned and served over a bed of crisp romaine lettuce, tossed with our classic Caesar dressing. Topped with our garlic croutons and grated parmesan cheese. Served with a freshly baked Italian bread stick.Each menu item is accompanied by your choice of coffee, tea, milk or soda.