2019 Flu Shot Clinics
TRUST, in partnership with MVNA, will once again be sponsoring flu shot clinics at the churches listed below.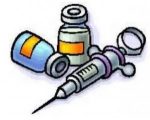 Reminders:
To have Medicare billed, please bring both your Medicare & Part B cards.
Ages 6 months and older may receive the flu vaccination (with parent's consent)
There are numerous insurance plans accepted this year. Health insurance card(s) or a photo copy (front only) is required for billing. Picture ID (ex. Drivers License or Employee Badge) is required.
For the non-insured, vaccination prices are (cash or check made out to Hennepin Healthcare):
– $39.00 for flu shot
– $67.00 for high dose (ages 65 & older)
. Please wear short sleeves.
---
If you want a flu shot, please make a reservation at the
church where you want to get your shot. 
There are signup sheets at all the host churches.
---
FLU SHOT CLINICS
Downloadable Schedule
Sunday, 9/29
11:15 am – 1:00 pm
Lynnhurst UCC
4501 Colfax Ave. S.
612-827-6157
Monday, 10/7
12:00 pm – 1:30 pm
Bethel Lutheran Church,
4120 17th Ave. S.
Health Fair co-sponsored by City of Mpls, AARP, TRUST,
11:00 am – 3:30 pm Nokomis Healthy Seniors
612-729-5499
Wednesday, 10/9
4:30 pm – 6:30 pm
Bethlehem Lutheran Church
4100 Lyndale Ave. S.
612-312-3400
Sunday, 10/13
9:45 am – 12:15 pm
Richfield UMC
5835 Lyndale Ave S.
612-861-6086
Sunday, 10/13
10:30 am – 12:00 pm
Judson Baptist
4101 Harriet Ave S.
612-822-0649
Sunday, 10/13
11:00 am – 12:30 pm
Lutheran Church of Christ the Redeemer
5440 Penn Ave S.
612-926-5414
Sunday, 10/20
11:30 am – 12:30 pm
Living Spirit UMC
4501 Bloomington Ave S.
612-721-5025
Sunday, 10/27
11:00 am – 12:00 pm
St. John's Lutheran
4842 Nicollet Ave S.
612-827-4406
---
MVNA has all their clinics posted on line at www.mvna.org.
For more information about TRUST, call 612-827-6159 .
The TRUST Parish Nurse is at 612-822-2394 or parishnurse@trustinc.org