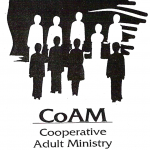 In January, 2008 TRUST merged with CoAM – Cooperative Adult Ministry – which was a twenty year old non-profit based in south Minneapolis with congregations as members. It had a very similar mission to TRUST except its mission is about older adults only:
"The Cooperative Adult Ministry gathers persons and resources from participating congregations and the general community to serve the needs and apply the talents of older adults."
CoAM's Goals:
To promote an image of aging that honors the dignity of older adults and enhances their physical, mental, and spiritual well-being.
To offer opportunities for older adults to use their experience and wisdom to plan and implement community programs and services.
To support the well-being of older adults through health and social service programs, information and referral to community resources.
To assist congregations to define and strengthen their ministry with and for older adults.
CoAM's Programs:
Life Enrichment– CoAM conducts a variety of courses to promote lifelong learning for older adults. These adventures in learning include humanities series, Bible and faith studies, local and world issues, travelogues, book reviews, and health topics. The Life Enrichment series are held three times a year at centrally-located Bethel Lutheran Church in south Minneapolis. They are offered as follows: a 4-session series in February, a 7-session series in April-May, and a 7-session series in October-November. They are held on Monday mornings from 9:30 to 11:45. Each session offers participants a choice of five subjects from which they can choose two. Choosing becomes the most difficult part for most participants since leaders and speakers are so highly qualified and the topics so challenging and vital.
Responses from a participants:
"Life Enrichment is the best thing that has happened to me since my retirement. It enlarges my outlook on what is happening in the world."
"How do you do it — such consistent quality and at so low a price?"
Grocery Shopping Transportation – CoAM provides vans and trained drivers to take people grocery shopping one day a week.
To qualify, riders must be:
At least 60 years old or with a disability
Able to shop independently (though assistance is provided in carrying the groceries to the shopper's door)
A resident of CoAM Grocery Service area in south Minneapolis (This area is bounded by 35W on the west, the Mississippi River on the east Franklin Avenue on the north, and Hwy 62 – Crosstown – on the south.)
Shopping time is approximately one hour. Donations of $4 – $5 per round trip to defray costs are appreciated but not mandatory. Phone: 612.721.5786
Susanna is 89 and lives alone. Eight years ago a neighbor told her about the Grocery Transportation program.
She says, "I don't know what I would have done without the program.
There are two additional benefits – getting me out of the house and getting to know people."
Bus Tours – For fun and fellowship, CoAM plans bus tours to interesting places or activities within or close to the metropolitan area. Favored tours are cruises and theater events, and, of course, stopping at an apple orchard during our glorious autumn days. These day tours are conducted four to five times throughout the year.
Health Ministry– Each October CoAM sponsors an annual health fair. Various senior organizations feature display tables with representatives present to answer questions. The MVNA provides flu and pneumonia immunizations. Blood pressure checks are also available.
---
CoAM SUPPORTING CONGREGATIONS
BETHANY LUTHERAN CHURCH
3901 36th Avenue South
Minneapolis MN 55406
BETHEL EVANGELICAL LUTHERAN CHURCH
4120 17TH Avenue South
Minneapolis MN 55407
BETHLEHEM COVENANT CHURCH
3141 43rd Avenue South
Minneapolis MN 55406
BETHLEHEM LUTHERAN CHURCH*
4100 Lyndale Avenue South
Minneapolis MN 55409
CALVARY LUTHERAN CHURCH
3901 Chicago Avenue South
Minneapolis MN 55407
CHRIST CHURCH LUTHERAN
3244 34th Avenue South
Minneapolis MN 55406
CROSSTOWN COVENANT
5540 30th Avenue South
Minneapolis MN 55417
DIAMOND LAKE LUTHERAN
5760 Portland Ave S.
Minneapolis MN 55417
EL MILAGRO LUTHERAN CHURCH
3751 17th Avenue. S.
Minneapolis MN 55407
EPWORTH UNITED METHODIST CHURCH
3207 37th Avenue S.
Minneapolis MN 55406
FIRST CHURCH OF GOD
3149 35th Avenue S.
Minneapolis MN 55406
HOLY TRINITY LUTHERAN CHURCH
2730 E 31st Street
Minneapolis MN 55406
HOPE LUTHERAN CHURCH
5728 Cedar Ave S.
Minneapolis MN 55417
LAKE NOKOMIS LUTHERAN CHURCH
5011 31st Avenue S.
Minneapolis MN 55417
LEBANON LUTHERAN CHURCH
2014 E 36th Street
Minneapolis MN 55407
LIVING SPIRIT UNITED METHODIST CHURCH*
4501 Bloomington Avenue South
Minneapolis MN 55407
MINNEHAHA COMMUNION LUTHERAN CHURCH
4101 37th Avenue S.
Minneapolis MN 55406
MINNEHAHA UNITED CHURCH OF CHRIST
4001 38th Avenue S.
Minneapolis MN 55406
MINNEHAHA UNITED METHODIST CHURCH
3701 E 50th Street
Minneapolis MN 55406
MOUNT OLIVE LUTHERAN CHURCH*
3045 Chicago Avenue Street
Minneapolis MN 55407
NOKOMIS HEIGHTS LUTHERAN CHURCH
5300 10th Avenue S.
Minneapolis MN 55417
ST. ALBERT THE GREAT CATHOLIC CHURCH
2836 33rd Avenue S.
Minneapolis MN 55406
ST. JOAN OF ARC CATHOLIC CHURCH*
4537 3rd Avenue South
Minneapolis MN 55409
ST. PEDER'S LUTHERAN CHURCH
4600 E. 42nd Street
Minneapolis MN 55406
TRINITY LUTHERAN CHURCH OF MINNEHAHA FALLS
5212 41st Avenue S.
Minneapolis MN 55417
WESTMINSTER PRESBYTERIAN CHURCH
1200 Marquette Avenue
Minneapolis MN 55403
*also a TRUST congregation