PLEASES NOTE:  TRUST INC is no longer accepting clients for our 2022/23 SNOW REMOVAL PROGRAM.  Registration is currently being accepted for spring clean up and summer yard maintenance. 
Call 612-827-6159 for more information!
LOOKING FOR MORE INFORMATION ON IMMEDIATE SNOW REMOVAL JOB OPPORTUNITIES?
Starting rate $25/lot per snowfall 
Weekly pay options
Click below for a Chore Home Services worker application form.  Once complete, contact Whitney Jones at 612-827-6159 to schedule an in-person interview.
chore worker application and materials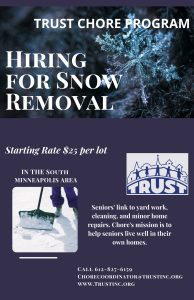 What is TRUST's Chore Program?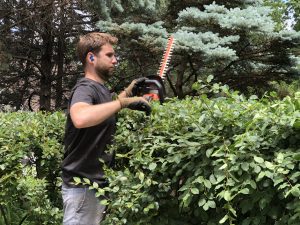 TRUST's Chore Program provides household chore and maintenance services to seniors over 60 and disabled persons of all ages living in South and Southwest Minneapolis.
The project matches workers having the necessary skills with those needing assistance. The goal of the project is to help seniors and disabled persons  continue living safely and independently in their own homes. 
For more information about obtaining services or joining Chore's team of workers, email chorecoordinator@trustinc.org. 
"My thanks for your many kindnesses. You have helped me stay in my home. Without your help I couldn't have done it!" ~ A Chore Participant