This hub is a center for health and wellness which develops initiatives and partnerships that strengthens the well-being of people in our community. Stay tuned for more information as more initiatives are defined post-pandemically.
THE CONVERSATION CAFE REPLACES THE GRIEF COALITION FOR TRUST INC
In September 2022, TRUST Inc will be replacing The Grief Coalition with "The Conversation Cafe".  A place for people to share the many facets of grief we have all experienced in the past two years of COVID precautions and isolations.  The Conversation Cafe offers a small group setting for people to gather and share life together. 
Conversation Cafe has moved to Wednesdays!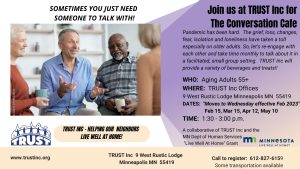 Feb 15, Mar 15, April 12 and May 10 from 1:30 – 3:00 p.m. at the TRUST Inc offices located at
9 West Rustic Lodge, Minneapolis MN  55419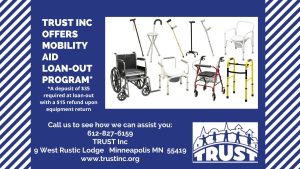 MEDICAL EQUIPMENT LOAN OUT PROGRAM IS BACK!
Call 612 827 6159 for details!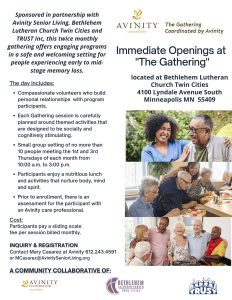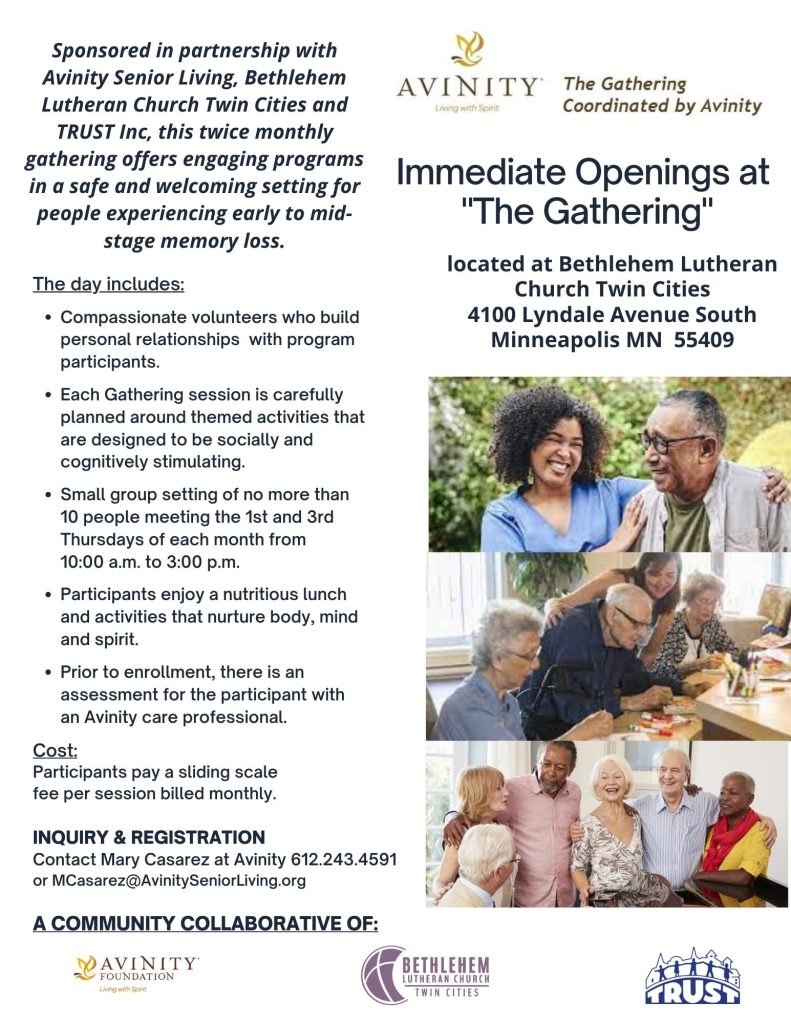 THE GATHERING OFFERS DAY PROGRAMS FOR MEMORY CARE
FOR INFORMATION ON ANY OF THE PROGRAMS ABOVE – Contact the TRUST Inc offices at 612.827.6159
COVID
Influenza
Right at Home
Falls Prevention
Preparing for Healthcare appointments
HOME HEALTHCARE/LIVING OPTIONS
Medicare Guide for Nursing Home Plan
Family Preparedness Guide (Making your Family Plan)
For more information, idea sharing questions or to volunteer for our initiatives,  please contact Mary Beth Weibel, Executive Director at 612.827.6159 or via email at executivedirector@trustinc.org