This hub provides initiatives that create sustainable models that address food insecurity in our community. Stay tuned for more information as initiatives are developed.
For information on Food Sustainability and Resources Click Below:
Trust, Inc is excited about new opportunities to partner together in the coming year to expand community with the community.   In 2022 we are reaching out to meet the needs of our community with transportation services to grocery stores and food banks to help our client base.  In May of 2022, we are excited for the start of our Sunday Night Community Dining option at Diamond Lake Lutheran Church in south Minneapolis as part of the "seed the need" giving campaign through TRUST Inc.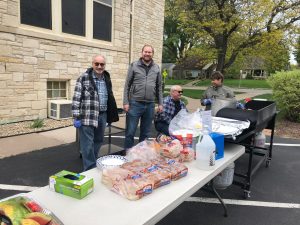 FREE SUMMER SUNDAY SUPPERS:     May 21, June 25, July 23 and August 27 at Diamond Lake Lutheran Church.
5760 Portland Avenue South – Minneapolis MN Activities start at 4:00 p.m. with dinner at 5:00 p.m.
A community building initiative for all ages!  Suggested donation:  $5.00/person
Call for details or to volunteer 612-827-6159  Served outdoors overlooking the beauty of Diamond Lake!  Some transportation available with advance notice.  Call 612-827-6159.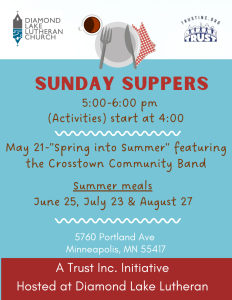 For more information, idea sharing questions or to volunteer for our initiatives,  please contact Mary Beth Weibel, Executive Director at 612.827.6159 or via email at executivedirector@trustinc.org.