The Grocery Transportation Program provides transportation for seniors so they may participate in weekly grocery shopping. To qualify, riders must be at least 60 years old or with a disability, and able to shop independently (though assistance is provided in carrying the groceries as needed).
Currently because of COVID-19 we have shifted from providing rides to online ordering and delivery of groceries. Participants receive a weekly phone call to place their orders and groceries are delivered to their doorstep by the Grocery Program Coordinator.  We continue to assess the situation and will begin transporting individuals again as soon as safely possible.
Comments from Grocery Transportation Program participants have included: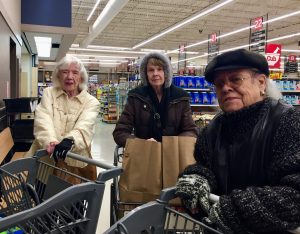 "The ladies I ride to Cub with are sometimes the only people I see." 
"I look forward to grocery shopping and having people to talk with each week."  
"I so appreciate your picking us up so we can get our own groceries."  
"Thank you for the kind and understanding way you treat seniors." 
"I don't know what I would do without the grocery run."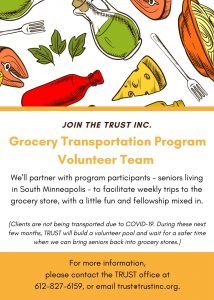 If you would like to know more about the program, or if you enjoy connecting with seniors in the community and would like to volunteer to run errands, please contact Sandy Parnell, Grocery Program Coordinator, at 612-827-6711.