Donate through giveMN.org
Donate via PayPal @TRUSTINCMN, or at www.paypal.me/TRUSTINCMN
Support through AmazonSmile
---
TRUST releases new, virtual service map
For 51 years TRUST Incorporated has had a footprint in South Minneapolis, but many are still unclear exactly where and with whom the agency serves. Today, TRUST is launching a virtual, interactive service map that spotlights its locations and boundaries, and acts as a guide to a host of other community resources.
Created by TRUST Office Coordinator Whitney Jones, the new map showcases TRUST's two locations on Rustic Lodge and Harriet avenues and amplifies the agency's service area and 10 newly created pods designed to streamline the work of TRUST's programs and volunteers. The full-color, multi-layered map also marks the spots of all 19 TRUST member congregations, which work in tandem with the non-profit created by eight of them in 1970.
What makes TRUST's new map particularly special is how it highlights a multiplicity of other services and community resources that work alongside TRUST, including neighborhood associations, businesses and other non-profits. At the click of a finger users can see who else is in the community and access more information about them via links.
"TRUST, which stands for Toward Renewed Unity in Service Together, is relevant because of the essential services it provides and the community partners with whom it collaborates," said Toya Richards, TRUST executive director. "Everyone TRUST touches plays a part in the agency's success and the well-being of South Minneapolis, and this new map showcases those relationships in a new and vibrant way."
The new map will continue to evolve based on other community resources and information gathered. For more information or to add a resource to the map, please email officecoordinator@trustinc.org or call 612-827-6159.
---
The TRUST Chore Program is hiring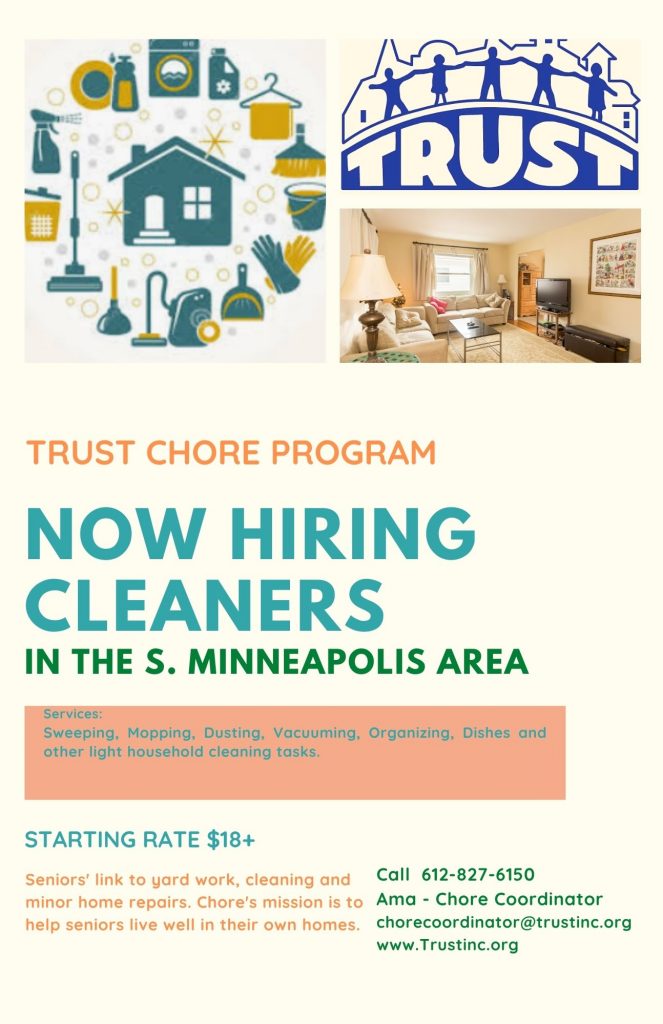 Spread the word that the TRUST Chore Program is hiring. House cleaners, handypersons, gardeners and lawn care professionals are all being sought for the program which matches skilled workers with seniors and disabled individuals who need work done in their homes. Click left, and also download our lawn care and handyperson flyers to share with people you know.
For more information, call Ama Asantewaa at 612-827-6150 or email chorecoordinator@trustinc.org