How Do You Apply for TRUST Meals-on-Wheels?
Call the TRUST Meals-on-Wheels office, 612-822-6040. There is no restriction based on religion, race, color, creed, national origin, sex, or income.
What Are The Meals Like?
The meals are tasty, nutritious, and well balanced. Each meal provides one third of the minimum daily nutrition requirement and includes a variety of sides and a juice or milk. Special diets prescribed by your doctor are available at no added costs.
How Are Meals Delivered?
Meals are delivered between 11:00 AM and 12:00 PM (Noon) Monday through Friday. You can choose to have them delivered hot every day, or delivered frozen once a week. You can order anywhere between 1 to 7 meals delivered a week. There is no contract to sign and no commitment to make.
What is the Service Area?
If you are unsure if your home is within the delivery area, outlined below please call the Meals-on-Wheels office at 612-822-6040. If you live outside of our service area the office will help direct you to the Meals-on-Wheels office that serves your area.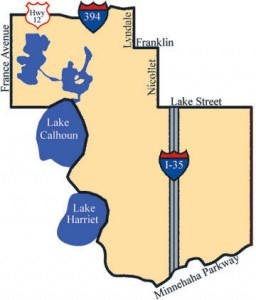 How Much Does it Cost?
The full cost of each meal is $6.00. Subsidy funds are available for most clients and you are asked to contribute toward the cost of your meals if possible. Statements are delivered at the beginning of each month for the previous month's meals.
What if I need to cancel a meal?
To cancel a day's meal, it is important to call the Meals office, 612-822-6040, as soon as you know but before 9:00 AM of the day of delivery. Be sure to do this so you will not have to pay for that meal.
What about Emergencies?
All new customers will receive a personal questionnaire soon after the Meals-on-Wheels service begins, with a review of information requested yearly.
If there is a change in who we should contact in case of an emergency, please let us know at once so that our records are accurate.
In case of an emergency the volunteer driver will contact the Meals-on-Wheels coordinator and the appropriate personal and professional services will be requested for the client.
How can I volunteer?
TRUST Meals-on-Wheels can continue to serve the needs of the community only as long as volunteers are willing to help. Volunteers are needed to deliver meals, to ride along with drivers, and to serve on the Meals advisory committee. Deliveries are 11:00 to noon, weekdays.
To inquire about volunteering, please call TRUST Meals-on-Wheels at 612-822-6040.